Tony Williams – Another You (remix) (ft. King Chip, Freddie Gibbs, Kanye West) (prod. by Bink!)
May 2nd, 2013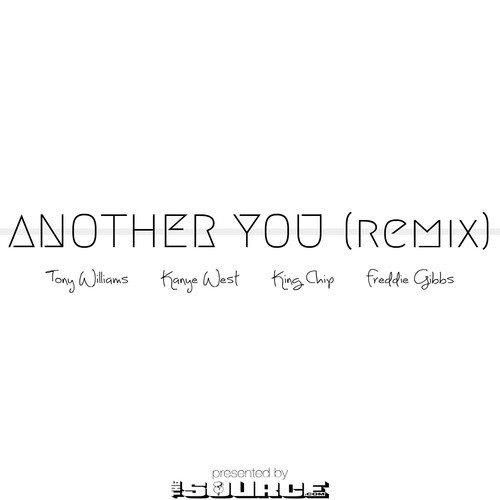 DOWNLOAD MP3 TonyWilliams-AnotherYouRemixftKingChipFreddieGibbsKanyeWest.mp3
Summary: Quality Slow Jam.
About Artist: The World Famous Tony Williams is an R&B singer songwriter from the midwest. He first made it big recording vocals for songs on Kanye West's debut album College Dropout (2004) including I'll Fly Away, and Spaceship. He's since contributed to songs on each of Kanye's subsequent albums though is never listed as a featured artist even on songs where he is prominently featured like Roses. Listening to Tony Williams' material you can see how much of an impact he had on the sound of Kanye West's early albums. On Tony Williams mixtape Finding Dakota Grey (2010) is one of my favorite mixtape projects of all time. One of the songs from that tape was on gregshiphop back in 2010 here (Tony Williams – Nightmares). King Chip, formerly Chip tha Ripper, is a favorite artist of mine from Cleveland Ohio. Chip has yet to break through into the big time but he has his own style and plenty of talent. Here are 6 Chip songs that have been on gregshiphop before. I don't know too much about Freddie Gibbs butI know he has quite a following and has been around for years now. His style is a little more the gangsta but he too is not without rapping talent. Kanye West is Kanye West. This song was producted by Bink! who produced songs on the Jay-Z's original Blueprint, and did Kanye West's Devil In A New Dress.
About Song: This song is originally off of Tony Williams debut album King or the Fool (2012). This remix adds verses by King Chip and Freddie Gibbs.
Favorite Part: I like the whole slow jam vibe that Tony Williams brings to the song but there are also a couple parts in particular I also really lik.

King Chip's first verse sounds so smooth (0:40) and his second verse (2:50) is just as good.
I like the musical piano breakdown at 3:50.
And then Kanye just comes in at the end with his old school care free style.
Other:
The World Famous Tony Williams Wikipedia
King Chip Wikipedia
Freddie Gibbs Wikipedia
Kanye West Wikipedia
Another You (remix) Lyrics via RapGenius