Talib Kweli & Z-Trip – Attack the Block
October 8th, 2012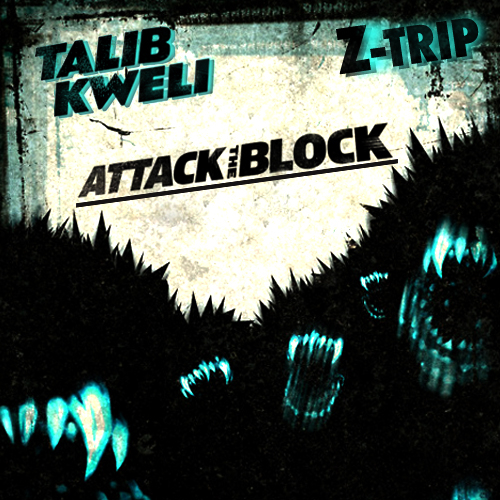 DOWNLOAD MP3 TalibKweliZTrip-AttacktheBlock.mp3
Summary: This track is the intro track to an awesome mixtape byt the same name. Download Attack the Block Mixtape. While I like this song I'm putting up this post to represent the whole mixtape which I highly recommend.
About Artist:  Talib Kweli is an established very well respected artist in the game who is a member of Madlib and one half of Black Star with Mos Def. Z-Trip is a DJ who really blazed the trail of many mashup artists behind him. While not well known outside of the Hip Hop community he is respected as a DJ on the very top of his game.
About Song: This song is the intro off of the a mixtape by the same name and while I like this song you should download the mixtape. The beginning of the song plays a clip of british movie call Attack the Block about an alien invasion (awesome indie movie that I was lucky to see at my local independent movie theater). The song samples Dead Prez's Hip Hop.
Favorite Part:   I love the quote from the movie at the very begining and of course Dead Prez's Hip Hop is a great beat but to really appreciate this track you gotta just download the mixtape cause the songs are mixed together with great skill (Z-Trip's skill I presume).
Other:
Other favorite track on this mixtape are Letter From The Government, Congregation, and Getting To The Money among others.
Download Official Attack the Block Mixtape
Talib Kweli Wikipedia
Z-Trip Wikipedia