YG – Thank God (Interlude) (ft. Big TC & R.J)
January 25th, 2015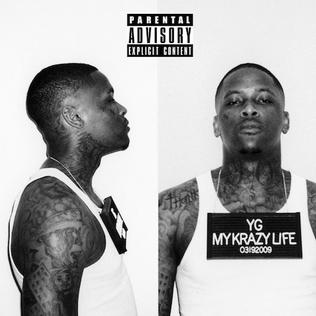 YG-ThankGodAudio Player
DOWNLOAD MP3 YG-ThankGod.mp3
Summary: Take em to church.
About: YG is famous for his songs "My N*gga", "Who Do You Love (ft. Drake)", and was featured on Jerimih's"Don't Tell 'Em. Back in 2009 YG partnered with Ty Dolla $ign to make "Toot it and Boot it". Ty Dolla $ign is most well know for his song "Paranoid (ft. B.o.B.)", but also produced Lupe's "Next to it"(which was awesome). YG created a label, Pu$haz Ink, that includes Ty Dolla $ign and DJ Mustard among others. Big TC, who sings the soulful hook on this song, is Ty Dolla $ign's younger brother.
Big TC is also incarcerated looking at life in prison for a murder charge. Ty Dolla $ign's debut album is going to be call Free TC in reference to his brother and to wrongfully imprisoned people everywhere.
The core of Thank God was record from Big TC's cell. Video below

This song is only one of many great song's on YG's 2014 album "My Krazy Life" which was was snubbed by the Grammys. Definitely one of the best rap albums this year. I'm sure YG being a blood had nothing to do with not getting nominated.
Favorite Part: This song is part of a great album with great songs, but this hook still jumped out at me. It wasn't until much later that I discovered the story behind the song.
Big TC's voice is just so soulful, so beautiful.
Other:
YG Wikipedia
Ty Dolla $ign Wikipedia
Thank God Lyrics (via RapGenius)
My Krazy Life <-Listen