Snoop Dogg – It Blows My Mind
July 26th, 2009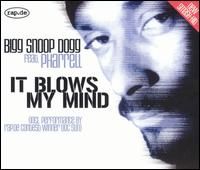 I normally don't want to post old shit or more than one song a day but I'm just off to the Snoop Dogg show at the Rialto so I thought I'd put this up.
Snoop Dogg – It Blows My Mind.mp3 (right click and "save link as")
About Artist: Snoop Dogg. West coast cali rapper who's all about the chronic.
About Song:This song was released on the Neptunes' (Pharrell and  Chad Hugo) "Neptunes Presents…Clones" in 2003. Its an old favorite that is just classic Snoop.
Favorite Verse:2nd verse (2:32)
Favorite Line: "Its the diabolical chronological mythological psychological make a model hoe fuck a G" (2:32)
and every other line.