T-Pain – Up Down (ft. B.o.B) (prod. by DJ Mustard)
March 10th, 2014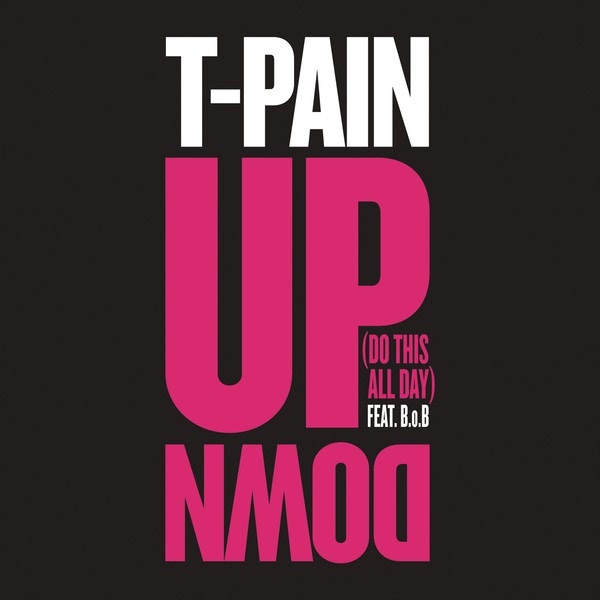 TPain-UpDownftBoBAudio Player
DOWNLOAD MP3 TPain-UpDownftBoB.mp3
Summary: I know it was a radio hit but… I loves it!
About Artist: T-Pain is the autotune king of Buy U a Drank amoung other hits. B.o.B is one of my top favorites in the game right now. If you search this blog you'll find a lot of B.o.B (songs that are way better than this one). If you want another T-Pain/B.o.B collaboration that didn't get playtime back in 2010 go Google "T-Pain Trunk Band" (do it!)
About Song: This song was from the summer of 2013 and was the single off of T-Pain's album. I know it was overplayed on radio and everything but I just really like bumpin this song. Strangely I don't think B.o.B brought a lot to this track even though I'm a much bigger fan of his than T-Pain.
Behind the scenes, this track was produced by DJ Mustard, a name many aren't familiar with but was the guy responsible for big hits like Tyga – Rack City, 2 Chainz – I'm different,  B.o.B – Headband, Tyga – Throw it Up, YG – My Nigga, Kid Ink – Show Me,  Ty Dolla Sign – Paranoid,  and the recent Who Do You Love (a remix of which I recently posted here). If you don't know those songs look them up because I'm sure you've heard them.
Favorite Part:
I just Love the chorus! "I  ain't even know it – EVEN KNOW IT! even know it – KNOW IT "
Other:
DJ Mustard  Wikipedia
T-Pain Wikipedia
B.o.B Wikipedia