Far East Movement – The Illest (remix) (ft. Riff Raff, Schoolboy Q, B.o.B.)
January 16th, 2015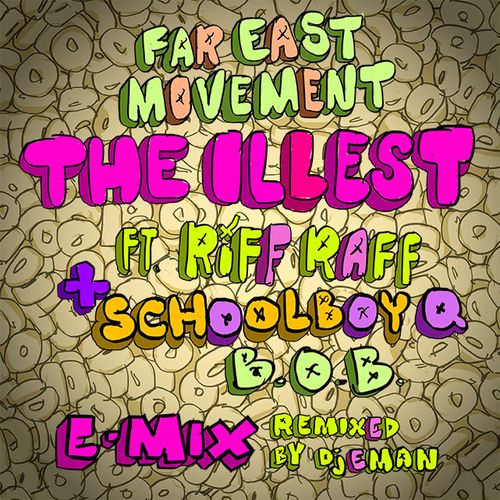 FarEastMovement-TheIlleststRiffRaffScHoolboyQBoBAudio Player
DOWNLOAD MP3 FarEastMovement-TheIlleststRiffRaffScHoolboyQBoB.mp3
Summary: Get Pumped
About Artist: Far East Movement is an underground four man asian american hip hop group from LA. Riff Raff is a crazy ass white rapper from Houston. ScHoolboy Q is an up and coming rapper who is part of Kendrick Lamar's Top Dawg Entertainment (from LA). And B.o.B. is pretty famous pop/hip hop artist from Atlanta.
About Song: The song, which is Far East Movement's most successful. came out in the summer of 2013 and this remix was released in spring of 2014
Favorite Part: The beat, especially the electronic horn type sound, is pretty awesome.
I love Riff Raff's line "I'm in the buildin, more gold than Rumpelstiltskin"
And of course B.o.B.'s verse if off the chain..
"Badaboom badabambi
Every day in her hair like Pantene
Pro B, ain't ready for a family
Fuck family, so she better have a Plan B
Plan B, never mind what the rumors say
Rumors say, never mind what the rumors say
Rumors say, when I walk into a room they say
Bobby Ray, bomaye, bomaye
I'm faded, my eyes are glazin', dialated
You hate that that nigga made it so you jaded
Your momma, your baby momma, and your lady
Be bumpin' my music naked while they're shavin'
Thots be like "Bobby save me, Bobby save me"
But this ain't no bank for checkin', ain't no savin'
I'm never known to accept a limitation
You want it with me well here's the invitation
Bands, Bobby, there's no more debatin', wow I'm just amazin'
Damn, she started gettin' naked 'till her panties start wavin'
Man, man I'm so sick, I'm so ill
Thermometers cannot monitor my level of chill
Grippin' the grain, whippin' the wheel"
Other:
Far East Movement Wikipedia
Riff Raff
The Illest Remix Lyrics (via RapGenius)